Finding a professional auto paint shop with reputable track record is not difficult. By the word-of-mouth, the driver was referred to Revol Carz Makeover when he was looking for a reliable workshop to get a new coat of paint for his BMW523i.
Auto spray-painting workshops that specialize in overall quality and customer satisfaction are vastly different from high-volume cheap outfits.
At Revol Carz Makeover, your car is meticulously prepared and then painted with the highest quality and long lasting paint product with an addition of a long-lasting ZeTough Ceramic Paint Protection coating.
This week, the sleek and aggressive BMW 523i falls under our limelight. There is no mistaking that the low slung sedan with the distinct large kidney grille is from the BMW Marque's line-up.
At the heart of the impressive German package is a silky smooth 2.5-litre, 24-valves, inline-6 engine mated to an 8-speed automatic (with manual select) transmission, developing 204bhp and 250Nm of torque that thrusts the 0-100km/h acceleration in 8.5 seconds and a top speed of 234km/h.
Step inside the luxurious cabin overflows with cozy soft white leather seats with matching center console. The elegant dash holds a premium audio system that give in-car entertainment like you're in the concert arena.
Join us on a virtual tour to our Revol Carz Makeover Studio and experience the astounding transition of the BMW to the show quality finish that draws the viewer's eye to the flawless perfection.
We hope you will enjoy viewing the following photos!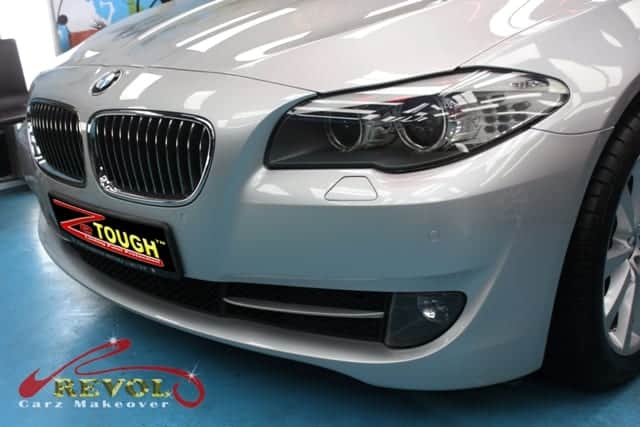 Our egos soar with customers' accolades and positive reviews of Revol Carz Makeover's expertise.
We bring to you the finest perfection in car repainting and paint surface protection with our proven, ZeTough Ceramic Paint Protection Coating that gives you the best value for money.
Revol Carz Makeover has restored the BMW523i to beyond showroom condition again. The 523i turns out even more spectacular than its previous showroom condition and will glisten with greater permanence.
Impressed by the stunning outcome of the makeover? Your car too can enjoy the reliable, long lasting surface protection. You can count on our award-winning and proven, ZeTough Ceramic Paint Protection Coating. Yes, imagine what we can do for your car!
With the treatment of the renowned ZeTough Ceramic Paint Protection, we guarantee your car's paintwork gets maximum protection with the showroom shine throughout your ownership. Maintenance after the treatment is minimal.
Thank you for reading!