BENTLEY FLYING SPUR W12-2 Coated with Ceramic Paint Protection. The British Bentley Flying Spur is touted as the world's most advanced four-door Grand-Tourer.  It was quite a feast to the eye the moment it arrived at Revol Carz Makeover Studio for her important grooming session with ZeTough Ceramic Paint Protection Coating.
We celebrate with Bentley its 100th anniversary this year as they debut the next generation 2020 All-wheel drive Bentley Flying Spur.
Opulence, luxury and performance are traits one expects from a renowned name like Bentley.
Pulsing under the massive hood is a powerful 6.0-liter twin-turbocharged W12 engine that produces 635 horsepower and 664Nm/lb-feet of torque.  The searing 0-100km/h acceleration at 3.8 seconds and a top speed of 320km/h making the BENTLEY FLYING SPUR W12-2 the most powerful four-door Bentley ever.
With the exhilarating bright chrome matrix grille, large jewel headlamps, sharp fender wing vents, striking double oval tail-pipes and iconic wing "B" badges, the Flying Spur's sleekly clean, progressive design is enough to drive up your adrenaline.
The luxurious interior is crafted with hand-stitched leather seam, deep polished lacquered dark wood veneer. Speaking of fine, luxurious details, the rotary stitching on the center console feature diamond knurling.
With much said about the Flying Spur, welcome to "tour" our studio and experience how ZeTough Ceramic Paint Protection Coating has transformed the grand sedan to a stunning showroom masterpiece.
We hope you will enjoy viewing the following photos!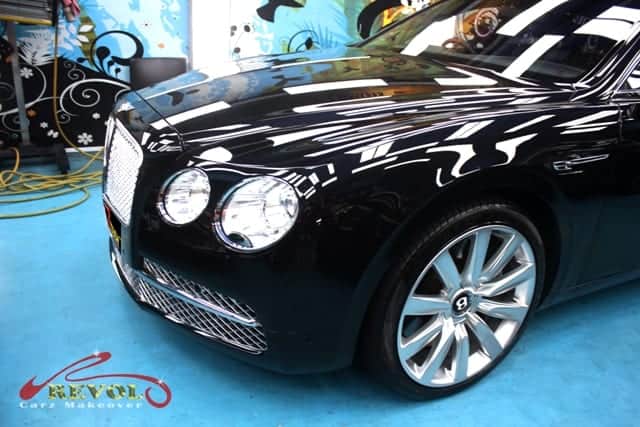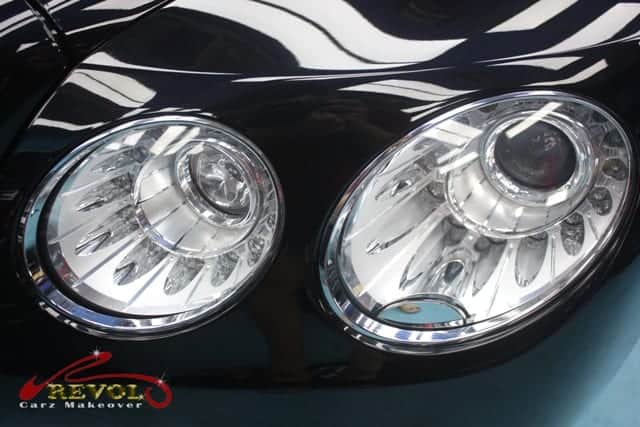 ZeTough Ceramic Paint Protection Coating awakens the Bentley Flying Spur to a stunning, mint show-quality condition.
Revol Carz Makeover is your right choice. Visit us to know more about our affordable and transparent services.

With the proven coating of the Eco-friendly ZeTough Ceramic Paint Protection coating, we guarantee your car's paintwork gets unparalleled protection with the guaranteed showroom shine throughout your ownership. Maintenance after the coating is minimal.

Thank you for reading!