It is important to have your vehicle inspected by a qualified mechanic if you suspect that the Wheel Bearings are worn or failing. The symptoms of bad Wheel Bearings in a Mercedes Benz E200 can affect the vehicle's handling, performance, and safety.
It is crucial to address these issues as soon as possible to prevent further damage and potential safety hazards.
Regular maintenance and timely repairs at Revol Carz Garage can help ensure that your Mercedes Benz E200 operates safely and efficiently on the road.
Our regular customer, brought his Mercedes Benz E200 to Revol Carz Garage with complaints of a vibrating loose Steering Wheel and grinding noise when driving.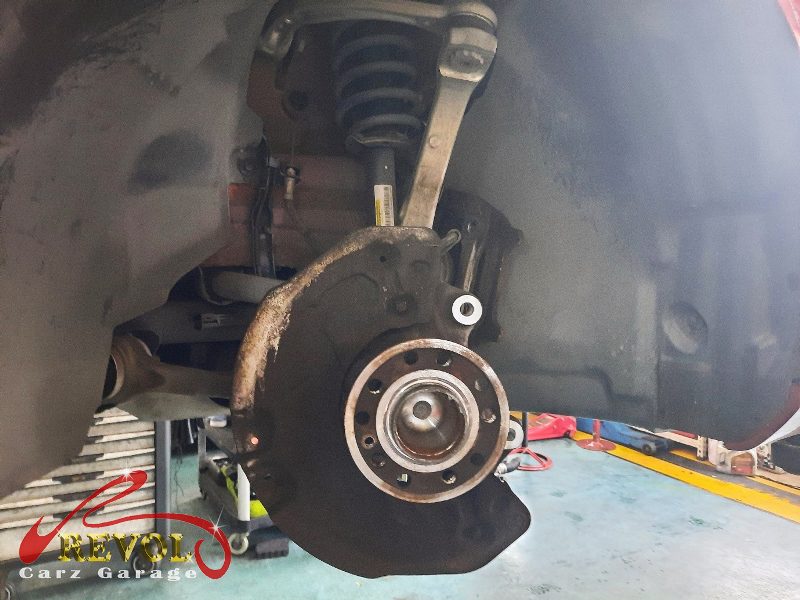 Our experienced mechanic had identified and addressed the problem – worn Front Wheel Bearings.
Our experienced mechanic has successfully resolved the issue by replacing the worn Front Wheel Bearings in the Mercedes Benz E200 with genuine Mercedes parts.
For the finishing touch, we finessed the Mercedes-Benz with a complimentary car wash and interior detailing as a small token of our appreciation.
Trust Revol Carz Garage for the ultimate Mercedes-Benz Care and Maintenance Services and repairs. Our expert team of technicians is dedicated to keeping your vehicle in optimal factory performance with state-of-the-art facilities and cutting-edge diagnostic tools.
Revol Carz Garage – the ultimate destination to make your Mercedes-Benz great again!