Does your BMW face vibrations or shuddering felt throughout the car, especially during acceleration or when shifting gears, clunking or knocking sounds coming from under the car, and difficulty shifting gears smoothly?

If you are, chances of your car having a worn long shaft mounting is possible if your tyres are all in good condition.
When badly worn, the car owner will have difficulty steering or lose control of the vehicle.
In the worst case scenario, where the long shaft mounting is completely broken, the long shaft might break and can cause a sudden loss of power to the wheels, with the car may come to a stop or becoming difficult to move. This can be dangerous if it happens while the car is in motion, potentially causing a crash or leaving the driver stranded in an unsafe location. Additionally, a long broken shaft can cause damage to other components of the car's drivetrain, leading to further repair costs.
Hence it is important to have a long-worn shaft mounting replaced promptly to ensure the safety and reliability of the car, especially when your car mileage crosses 180km.
Let's take a look at how our experience technician resolves Mr. Tan's BMW 528i long shaft mounting issue.
Mr. Tan's BMW 528 is experiencing vibrations, and he has visited Revol Carz Garage for assistance from our BMW specialist team!
Mr. Tan's car is promptly lifted up for inspection.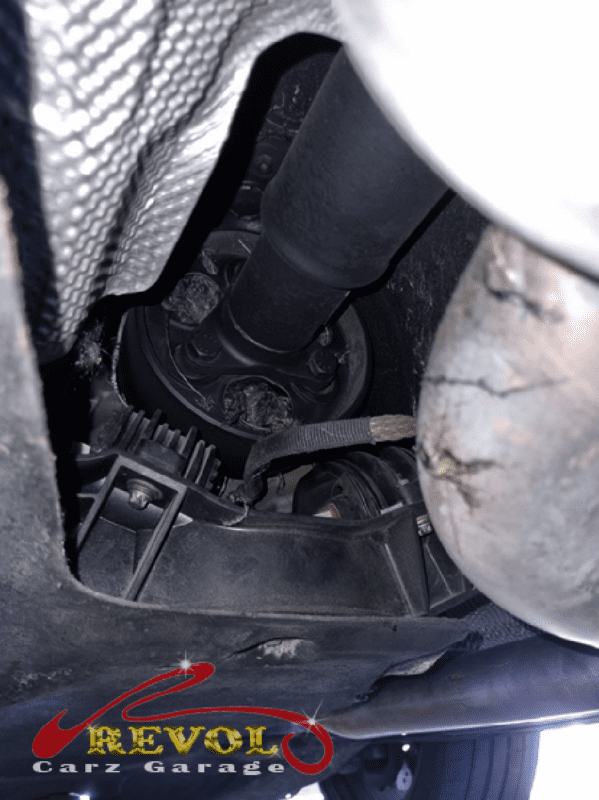 Photo 1

Upon conducting a test drive with the owner, our experienced technician promptly hoisted up the car and identified an extremely worn long shaft mounting.
Photo 2

How stark is the difference between the badly worn long shaft mounting and the new one?
The location where the long shaft mounting is connected from the gearbox to helps to transfer power from the engine to the rear wheels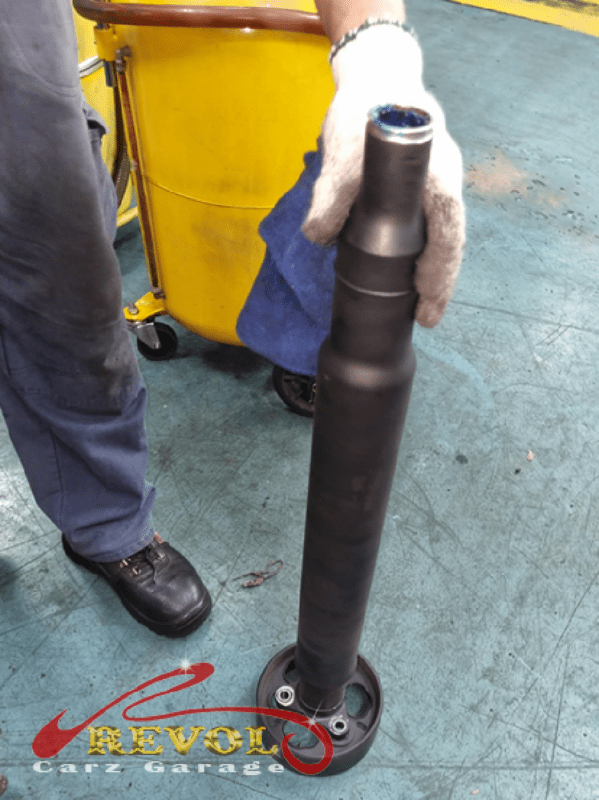 The BMW long shaft is a component that connects the transmission to the rear differential, and the long shaft mounting is attached to it.
We are delighted to have resolved the troubling unknown vibration issue in Mr. Tan's BMW and returned it to him, along with a complimentary car wash and vacuum.
At Revol Carz Garage, we are committed to providing our customers with exceptional service and value. We take pride in our work and stand behind every repair we make. We believe that once you experience the quality of our service, you will be a customer for life.
If you are having an issue with your car, do feel free to contact us for assistance.
Do feel free to contact Gavin Tan @ 9740 6855 or Randy Phuang @ 9851 1447 or visit Revol Carz Garage at 10 Ang Mo Kio Industrial Park 2A #02-18 AMK Autopoint S568047, if you need any assistance with your car repair needs.
Warmest regards,
Revol Management Team
Gavin Tan Randy Phuang
Alan Wong Marcus Koh

Revol Main Enquiry Hotline: 6555 1181
Revol Carz Garage Hotline: 6555 1171
Revol Carz Makeover (Ang Mo Kio) Hotline: 6746 6281
Revol Carz Makeover (Toh Guan) Hotline: 6267 9331
Revol Carz Makeover (Accident Insurance Claims) Hotline: 6555 1131