It's no secret that our customers choose us as their preferred workshop time and time again!
The answer is simple yet profound – we prioritize your needs and always put your interests first.
In today's case study, we'd like to share the story of Mr. Lim, a BMW owner who recently encountered a minor accident that resulted in a sudden air leak sound and his car sinking down. Fortunately, Mr. Lim knew exactly who to call for assistance – our Revol Carz Garage Hotline.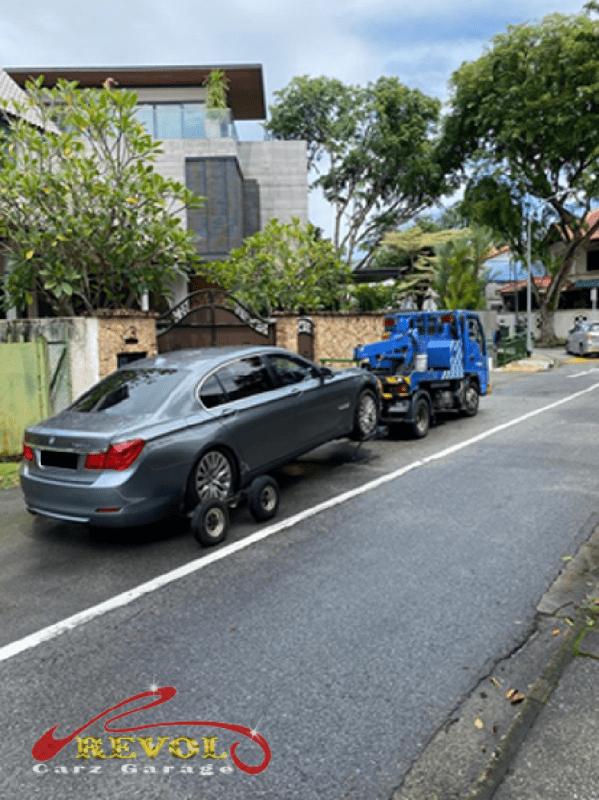 Immediate Assistance: Mr. Lim's quick thinking led him to contact our Revol Carz Garage Hotline for help. Understanding the urgency of the situation, we immediately arranged for a tow truck to reach Mr. Lim's location within just 45 minutes to safely transport his BMW 7 series to our workshop.
Once at our workshop, Mr. Lim expressed his concerns about the potential cost of repairing his BMW's Airmatic system. It's a well-known fact that BMW 7 series air matic replacements can be quite expensive, and this naturally raised concerns for car owners like Mr. Lim.
Thorough Inspection by Our BMW Specialist: Upon arrival at our workshop, our BMW specialist took over and carefully hoisted Mr. Lim's vehicle for a thorough inspection. While many workshops might opt for the easiest solution – a full air matic replacement – we pride ourselves on a more thoughtful and cost-effective approach.
Saving on Air Matic Replacement: After a detailed assessment, we identified that the issue lay with the Airmatic hose. This crucial component needed to be ordered, and we promptly arranged for its replacement. By addressing the specific problem rather than opting for a complete Airmatic replacement, we were able to provide Mr. Lim with a cost-saving solution.
At Revol Carz Garage, our commitment to our customers goes beyond mere repairs; it's about finding the most efficient, cost-effective solutions while ensuring the highest quality of service. Mr. Lim's case is a testament to our dedication to saving our customers time and money.
If you find yourself in a similar situation or require any automotive assistance, please don't hesitate to contact us. We're here to provide swift, reliable service, and we always have your best interests in mind.
Do feel free to contact Gavin Tan @ 9740 6855 or Randy Phuang @ 9851 1447 or visit Revol Carz Garage at 10 Ang Mo Kio Industrial Park 2A #02-18 AMK Autopoint S568047, if you need any assistance for your car repair needs.
Warmest regards,
Revol Management Team
Gavin Tan Randy Phuang
Alan Wong Marcus Koh

Revol Main Enquiry Hotline: 6555 1181
Revol Carz Garage Hotline: 6555 1171
Revol Carz Makeover (Ang Mo Kio) Hotline: 6746 6281
Revol Carz Makeover (Toh Guan) Hotline: 6267 9331
Revol Carz Makeover (Accident Insurance Claims) Hotline: 6555 1131