Hi Everyone,
Before we begin the article, we would like to extend our heartfelt thanks to all our esteemed customers for continual supporting Revol Carz Makeover on car paint protection and spray painting services.

The BMW523i sedan has seen better days. Weathered paintwork and decorated with scuffs, dings and dents have taken the toll on the surface. Yet the Bimmer is still steely rigid and faithful in serving the lucky owner for years to come.
It is payback time! Giving the loyal marque a new lease of life with a regal touch at Revol Carz Makeover for a full car respray and layered with ZeTough Ceramic Paint Protection Coating is a thanks-giving gesture.
Revol professional auto spray-painting workshop is focused in giving you an impeccable-quality craftmanship. Your car is meticulously prepared and resprayed with the highest quality products and then sealed with a lasting glass-like ZeTough Ceramic Paint Protection Coating. The spectacular result is beyond your expectations.
This week, we raise the show curtain to showcase the glistening BMW 523i flaunting graceful curvatures under the spotlights.
The heart of the 523i is a potent 2494cc in-line 6 powertrain mated to an 8-speed transmission developing 170 horsepower at 5500rpm and 245Nm of torque at 3950rpm. The century-thrust is claimed at 8.5 seconds with the top speed of 234km/h.
Come, join us behind-the-scene at Revol Carz Makeover Studio and be impressed by the elegant transition of the BMW 523i to a breath-taking show-quality gem.
BEFORE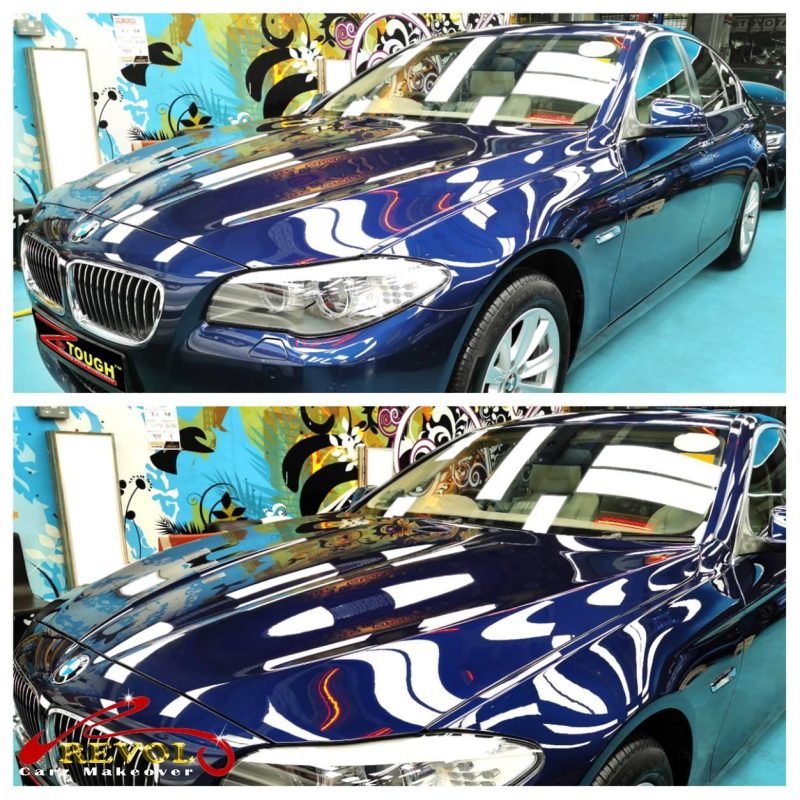 The BMW 523i arrives at Revol Carz Makeover Studio ready for a new coat of paint and a treatment of ZeTough Ceramic Paint Protection Coating.
Before preparing dismantling of the body parts for the spray-painting protocol, we comb the car closely noting every ding and scuff. For example, the side skirting with obnoxious scratches will be dismantled for a full professional restoration.
AFTER
Give a big shoutout for the staggering show-quality mirror-finish. There is no secret that ZeTough Ceramic Paint Protection adds to the impeccable glamour.
Touted as the Gold-standard in surface coating, ZeTough Ceramic Paint Protection Coating exceeds your expectations. 
ZeTough anti-haze polish and coating creates durable crystal-like clarity headlights. 
Detailing the engine to an exquisite standard has won effusive praises from the customer. 
Detailing the luxurious ivory-white leather to spotlessly opulent standard is an arduous process that demands resilience and skills.  
BEFORE : Without ZeTough Ceramic Paint Protection Coating, the paint surface is subjected to deterioration by the harsh elements.
AFTER : Indulge in the trusted ZeTough Ceramic Paint Protection for lasting surface protection throughout your car ownership!
BEFORE : Finger-nail scratches around the door handles affect the aesthetic appeal.
AFTER : Finger-nail scratches are easily eliminated and never recur with the lasting, glass-like coating of ZeTough.
Feel the ultimate car makeover and paint protection experience with Revol.  The BMW 523i exudes optimal ostentation in the post makeover.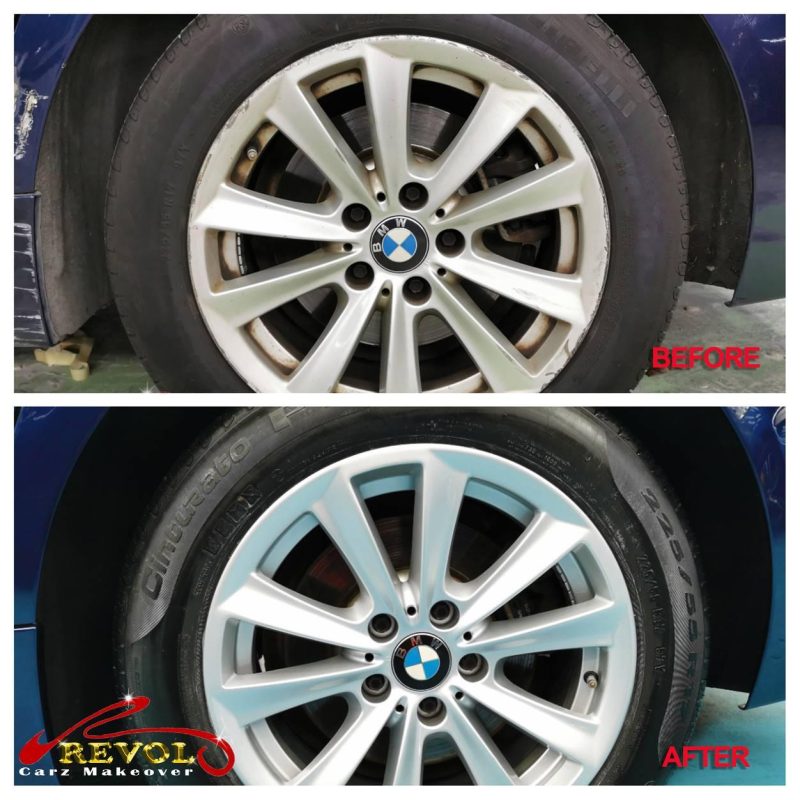 BEFORE : Curb-rashes, copious brake dust, scratches and oxidation leave the set of wheels in tatty condition.
AFTER : Revol's holistic makeover revived the wheels to a glorious show-quality perfection.
We hope you enjoyed the virtual tour to our studio and are inspired by our artisanal craftsmanship that transformed the BMW 523i to an all new high.
ZeTough Ceramic Paint Protection Coating deliver long-lasting surface protection throughout your worry-free car-ownership.
Look no further for your long-term car paint surface protection. ZeTough Ceramic Paint Protection Coating is your perfect choice.
The hydrophobic properties of the coating repel dirt and grime better than other traditional surface protection products. Your car stays cleaner and gleaming for longer period of time and is extremely easy to wash without scrubbing.
Find out more from our friendly Workshop Managers, Gavin Tan at HP: 9740 6855 or Randy Phuang at HP: 9851 1447. They'll be delighted to tell you more about our range of products and services.
ZeTough Ceramic Paint Protection Coating – the epitome of car surface protection.

Thanks for reading!
Do feel free to contact Gavin Tan @ 9740 6855 or visit Revol Carz Makeover at 10 Ang Mo Kio Industrial Park 2A #01-12 AMK Autopoint S568047 and Blk 42 Toh Guan Road East Enrterprise Hub #01-75 S608583, if you need any assistance for your car repair needs.
Warmest regards,
Revol Carz Makeover
Gavin Tan Randy Phuang
Alan Wong Marcus Koh
Revol Management Team
Revol Main Enquiry Hotline: 6555 1181
Revol Carz Garage Hotline: 6555 1171
Revol Carz Makeover (Ang Mo Kio) Hotline: 6746 6281
Revol Carz Makeover (Toh Guan) Hotline: 6267 9331
Revol Carz Makeover (Accident Insurance Claims) Hotline: 6555 1131