We are excited to share with you that our dedicated team of automotive experts does more than just engine repair and car servicing. We understand that a well-functioning vehicle is more than just what's under the hood. That's why we're pleased to inform you that our team is also highly proficient in troubleshooting and resolving air conditioning issues in your car.
When driving in Singapore humid weather, a malfunctioning air conditioner can make your driving experience uncomfortable. Our skilled technicians are equipped to diagnose and fix a wide range of air conditioning problems, ensuring you stay comfortable no matter the weather.
Whether it's a refrigerant leak, a faulty compressor, or a simple air filter replacement, we have the knowledge and tools to get your car's air conditioning system running smoothly once more. We understand the importance of a comfortable and climate-controlled cabin, and we're here to make sure you enjoy a pleasant drive.
Allow us to present some real-life cases of air conditioning issues we have successfully resolved for our customers
Mr. Bala, the owner of a BMW 318i, experienced an air conditioning problem with his vehicle. Despite recharging the air conditioning gases, he found that the issue persisted after a short period, with the air conditioning not delivering cold air as expected.
Replacing the air conditioning cooling coil necessitates the removal of the entire dashboard, making it a labor-intensive process that will span several days to complete.
We are also replacing the air conditioning filter with an authentic BMW air filter.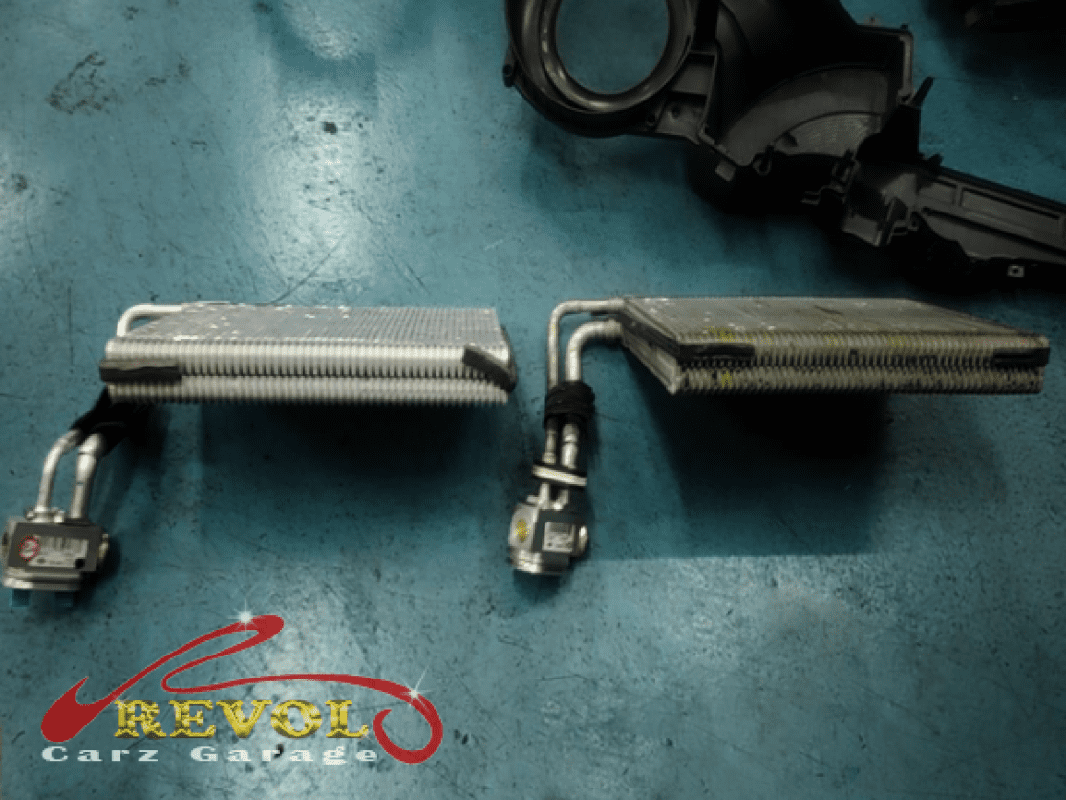 The new air conditioning cooling coil is ready for replacement
We are delighted to return Mr. Bala's car, ensuring he can now enjoy cool and refreshing air conditioning without any worries
Do feel free to contact Gavin Tan @ 9740 6855 or Randy Phuang @ 9851 1447 or visit Revol Carz Garage at 10 Ang Mo Kio Industrial Park 2A #02-18 AMK Autopoint S568047, if you need any assistance for your car repair needs.
Warmest regards,
Revol Management Team
Gavin Tan Randy Phuang
Alan Wong Marcus Koh

Revol Main Enquiry Hotline: 6555 1181
Revol Carz Garage Hotline: 6555 1171
Revol Carz Makeover (Ang Mo Kio) Hotline: 6746 6281
Revol Carz Makeover (Toh Guan) Hotline: 6267 9331
Revol Carz Makeover (Accident Insurance Claims) Hotline: 6555 1131