Hi Readers,
Today we have another arrival of another BMW 4 series at Revol Carz Makeover for the ZeTough Ceramic Paint Protection coating and this time it is the brand new BMW 435 convertible that visited us straight from the showroom.
The new BMW 4 series Convertible have made its world debut at the 2013 los Angeles Auto Show in November, As no surprise, the Convertible version offers no big differences when compared to the coupe version, except the convertible top. ( BMW Blog)
The BMW 435CI comes with the delightful 3.0-litre TwinPower Turbocharged inline six paired with the eight-speed automatic with a top speed of 250km/h. It goes from 0-100k/h in 5.5s.
The new BMW 4 Series Convertible offer the same dimensions of aesthetic design and sportiness introduced by the coupe version. Up front the model will get the signature BMW design features, like the double-kidney grille and four round headlights offered with optional full-LED headlights. There is also a large air intake in the front apron and additional small vertical apertures for the Air Curtains that both ensure an improved cooling for the front wheels and cutting fuel consumption at higher speeds.
Once again, beside enriching out the true colour of the new paintwork, the Dynamism that moves –even when standing still is now more prominently after the ZeTough Ceramic Paint protection coating.
Enjoy Viewing!
Two day old BMW 435ci before ZeTough Ceramic Paint Protection Coating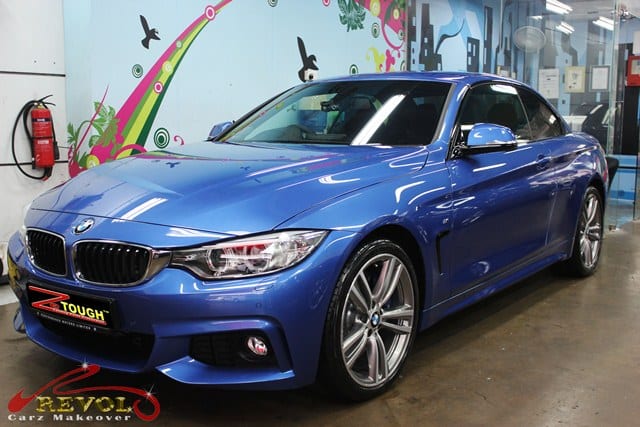 After ZeTough Ceramic Paint Protection Coating the paintwork is enriched to fullest with clearer gloss clarity
The Sexy topless BMW 435Ci view
Close up bonnet view
BMW 435Ci Adaptive LED Headlight
BMW 435Ci Engine compartment view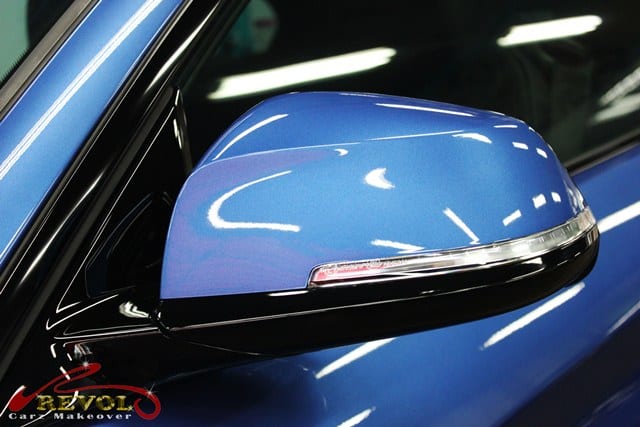 BMW 435CI side mirror with signal light
BMW 435Ci interior view
BMW 435Ci eight-speed automatic gearbox shift
BMW 435Ci speedometer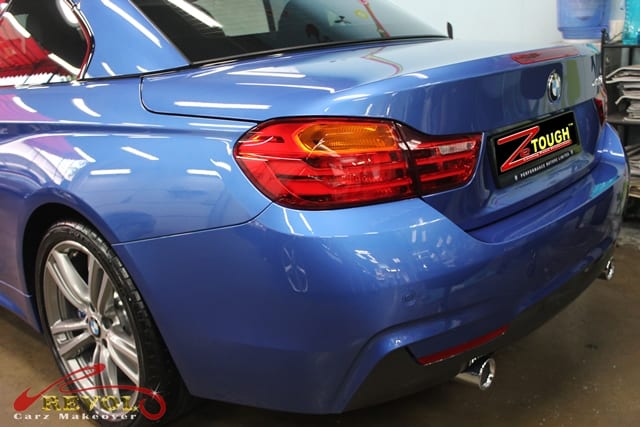 BMW 435CI rear view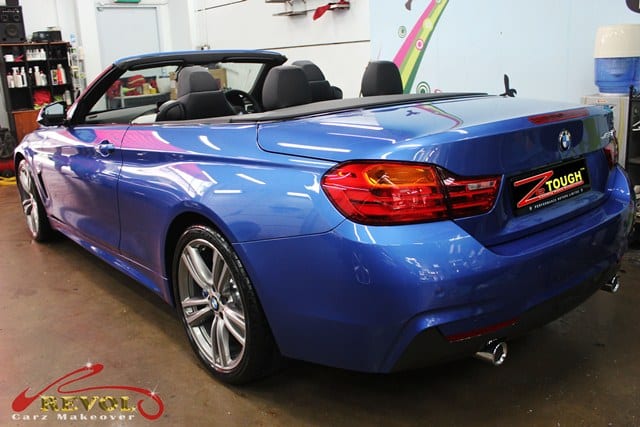 the Dynamism that moves –even when standing still rear view
Clean and shiny BMW 435CI exhaust pipe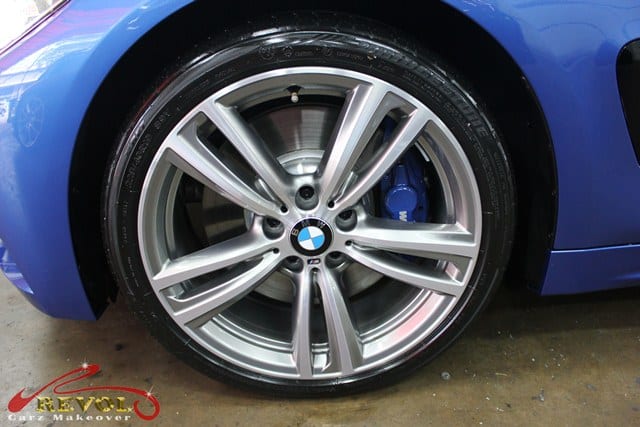 Beautiful multi spokes M sport Rims
---