When the sleek sporting metallic blue BMW M6 vroomed into Revol CArz Makeover today, an adrenaline rush overcame us and even more after being treated with ZeTough Ceramic Paint Proteciton Coating. The new BMW M6 GranCoupe truly holds a more stunning and aggressive appearance with its new body kit that changed everything from bumpers to fenders, hood and trunk-lid spoiler. This was the most beautiful BMW we have ever seen. The M6 claims an impressive acceleration from 0-100kmh in 4.4 seconds and a top speed limited to 250kmh. Thanks to the innovative carbon fibre and light materials used for bumpers and roof and aluminum for doors – for overall weight reduction that improved handling. Powered by a 560 horsepower, 4.4 liter twin-power turbo V8 engine and mated with 7-speed dual clutch transmission, the M6 is a fast yet comfortable grand touring car. Enjoy Viewing!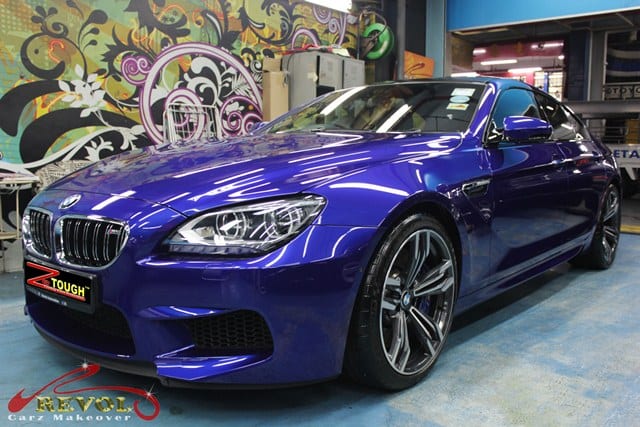 The new BMW M6 GranCoupe with more aggressive look
Carbon fibre bumpers and roof; aluminum hood and doors
Xenon Adaptive LED headlights with dynamic auto-leveling for brighter, farther and more safety.
4.4-liter BMW M Twin-Power Turbo V-8, 32-valve 560-hp engine
Stylishly designed wing mirrors
BMW M6 Signature badge on door handles
The cabin is plush with Merimo leather upholstery and carbon fibre interior trim
BMW M6 is equipped with hydraulic assist for the power steering
The larger rear diffuser blends perfectly with the bumper's lateral air outlets
Light weight thermo-plastic boot lid
Stunning rear view of the BMW M6 with thermoplastic boot and titanium exhaust system
Akrapovic Evolution Titanium 4 Exhaust Pipes System
The special designed Star Spokes forged light weight alloy wheels
After the ZeTough Paint Protection grooming treatment, this BMW M6 GranCoupe certainly look even better with its already owned head-turning charisma. Thank you for Reading!
---