Hi Readers, We felt rewarded for the opportunity to groom the dynamic Supercharged Jaguar XFR with our ZeTough Ceramic Paint Protection at Revol Carz Makeover workshop today. The Jaguar XFR is equipped with virtually every luxury and advanced technology – soft, perforated leather upholstery, deep pile carpet, leather trim with twin needle contrast stitching on the instrument panel and door roll tops, smart key system with keyless start, driver information center, intelligent start/stop system, 20-inch Nevis alloy wheels and even soft ambient interior lightings. Under the hood of the magnificent XFR is a sixth generation, supercharged 5.0-liter V8 engine that punches 510 horsepower and 470 lb-ft of torque, enough to sprint the XFR from 0 to 100kmh in remarkable 4.5 seconds. The engine is mated with a six-speed automatic transmission that shifts smoothly and quickly and can also be manually controlled with paddle shifts. Enjoy viewing!
Jaguar XFR's eye-catching profile with streamlined front wings, larger air vents, louvre bonnet, appealing front grille and bumper designs.
Aggressively styled front facia with unique front bumper, larger air intakes, wire mesh front grille, heat-extracting bonnet louvers and stylish Nevis 20 inch alloy wheels complete the sporting appeal
Sixth generation, 5.0 liter V8 510 Supercharged Eaton engine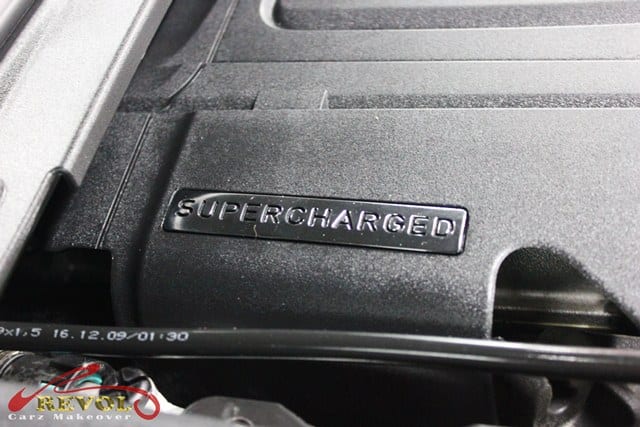 SUPERCHARGED" engraved badge on engine cover
Versatile door mirrors with automatic dimming features Reduce glare lights from vehicles behind
Warm interior lighting, charcoal soft grain leather sports seats and piano-black veneer with dark mesh knurled aluminum and dark oak
Jaguar XFR Servtronic steering system park and maneuver with ease
Inituitive visual 7 inch touch screen multimedia controls
Jaguar Sequential knob with 8 speed automatic transmission for fast gearshift
Sporting rear with carbon fibre subtle spoiler and quad perfromance exhaust tailpipes
Stylish 20 inch Nevis alloy sports wheels
After applying the final coat of ZeTough Ceramic paint protection on the well groomed black Jaguar XFR, our team felt rewarded as the happy owner gave a pat on our manager's shoulder on collecting his car. The extremely glossy XFR will cruise the road with assurance of long time protection with ZeTough Ceramic Paint Protection Coating. Thank you for reading!
---