Hi Everyone, We are extremely happy and privileged to receive another compliment from one of our happy customer- Mr. Eran Hushusni
"REVOL Carz Makeover is one of the best, if not, the best place for car paintwork restoration and spray painting works.
One thing that I am completely amazed is their customer service and how knowledgeable they are trained. Mr. Marcus and Mr. Randy are the two people that not only believe in providing me what a customer is entitled, but they also go that extra mile to help me understand every step of the process with detailed explanation.
Most importantly they are willingly enough to listen to my needs, demands and expectations. The result delieved blew me away. The end product was top class. And coming from someone who is meticulous and attention-to-detail person, I couldn't be happier.
And to top it all off, one thing I value most from REVOL Carz Makeover is their after-sales-service. It is what every customer wants and they are more willingly enough to do it to ensure the customer is fully satisfied.
For me that's professionalism at the very top level.
I recommend to any car owner to give REVOL a try. It's worth your time and DEFINITELY worth your money."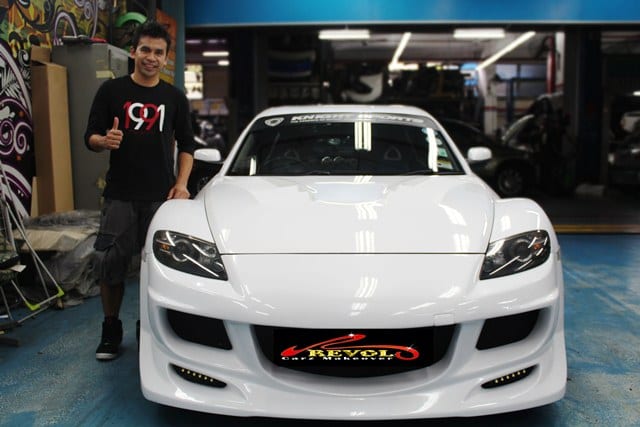 Revol Carz Makeover management would like to express our appreciation and thanks for Mr. Eran Hushusni's testimonial. We sincerely thank you for your support in Revol Carz Makeover for your paint protection and spray painting services for all these while. We appreciate it very much. Great to have another supportive happy customer! Enjoy viewing the before and after transformation! Cheers, Revol Carz Makeover Management Team
Before Full Car Spray Painting & ZeTough Ceramic Coating Paint Protection
The car is pretty not bad expect for its slight yellowish and some paint chips around with some stickers to be removed…
Paintchips on the door handles
Before spray painting of the rear View of the Mazda Rx8
After Respray & ZeTough Ceramic Coating Paint Protection
After full car spray painting together with ZeTough Ceramic paint protection coating, the beautiful Rx 8 have transformed to a whiter and glossier paintwork.
Close up bonnet view
Maxda Rx8 Headlamp
Well polished Mazda Rx 8 engine compartment
Beautiful combination of blue and black colour finishing
Mazda Rx8 speedometer
Sporty rear view
Mazda Rx8 rear lamp
Well polished exhaust
Well polished and clean rims Thank you for Reading!