Hi Readers, The presence of this 2 day old brand new sleek Peugeot RCZ LE coupe at our Revol Carz Makeover workshop enchanted us today. This beauty gave us the pleasure and inspiration to meticulously prepare her for the application of the ZeTough Ceramic Paint Protction Coating. The French built Peugeot Red Carbon RCZ has its distinctive sporty appeal with double bubble roof and powerful styling. There has never been quite a car like this. The unique 'Red Carbon' edition is exclusive with only 300 units manufactured. The RCZ is available in 1.6-litre turbo-charged petrol engine in 156bhp with fast accelerating speed from 0-100km/h in 8.3 seconds and with a top speed of 210 km/h. Enjoy viewing!
The "Red Carbon" Peugeot RCZ LE stunning sports coupe with sleek and powerful styling.
Recent re-designed latest model RCZ has updated exterior with dainty grille and headlights.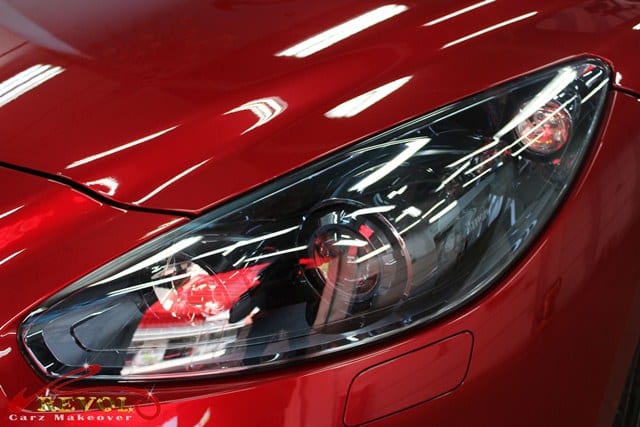 Peugeot RCZ's Xenon, directional and self-leveling headlamps
The RCZ 1.6-litre turbo-charged petrol engine
The cabin has been meticulously styled with top-quality material with double stitched upholstery. The flowing gar lever surrounding is embellished with lacquered black finish.
Included in the RCZ is the distinctive analog clock
The equipments are neatly arranged on the dashboard to ensure the best driving experience possible.
The racing style gear lever is finished in stylish lacquered black surround.
RCZ is surprisingly practical with a large 384-litre boot. The muscular rear bumper offers extra protection and giving it a sporty edge.
The twin chrome exhaust pipes add to the sense of style and power.
Peugeot RCZ's special designed 19-inch Alloy wheels with Onyx matt black paintwork finish.
We felt somewhat sentimental when parting with the gleaming Peugeot RCZ as the happy owner drove her away.. But it was comforting to know she will be well protected with ZeTough Ceramic paint protection coating for a long time to come.
Thank you for Reading!
---