Hi Readers. The upgraded 2014 Mercedes E250 Coupe was a real head turner when it arrived at our Carz Makeover Workshop today for grooming with the ZeTough Paint Protection treatment. The new E250 Coupe has sophistication, luxury and class with new headlight design, more stylish body, new engine and host of latest tech-gears. A standard safety device called, "ATTENTION ASSIST" system even alerts the driver if he feels drowsy at the wheel. A "Time to Rest" with a coffee cup icon flashes in the instrument cluster. Enjoy viewing the following photos!
The upgraded 2014 Mercedes E250 Coupe delivers a sweeping roofline, sleeker grille, new headlamps and more aggressive bumpers.
Despite the front guards and bonnet remains unchanged, Mercedes designers gave the E250 coupe a new face with a fresh bumper, headlights and grille design.
Sleek, long life LED headlamps and daytime running lights.
Under the hood beholds the 2.0 litre, four cylinder turbo engine, 155W/350Nm mating the 7-speed automatic transmission.
Heated exterior mirror electrically adjustable from inside, painted in Polar white body color.
The luxury interior of the E250 features Nappa leather-wrapped steering wheel and Bangal Red interior.
The rear view of the upgraded E250 Coupe with new wrapped-around LED tail-lamps and Mercedes badge.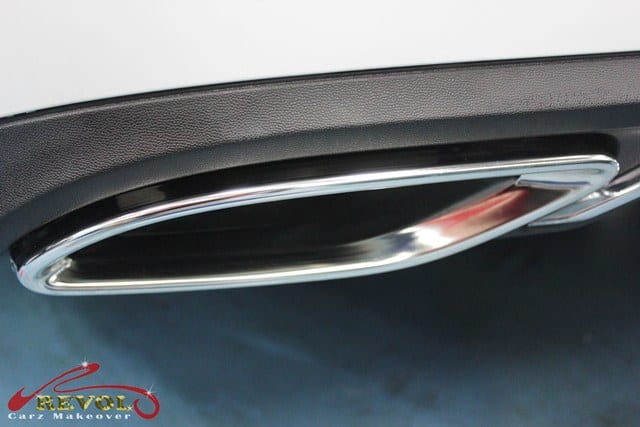 The twin exhaust pipes on the E250 Coupe are subtle yet sporty design.
The Mercedes E250 Coupe's standard 18-inch sports alloy wheels. The Mercedes E250 Coupe is a fine and elegant cruiser that exudes class, comfort and respect on the road. After ZeTough Ceramic Paint Protection coating treatment, the car will be more a head-tuner as it cruises down the roads. Thank you for Reading!
---