Hi Everyone, This is a very special day. A renowned celebrity visited Revol Carz Makeover Workshop for a makeover together with ZeTough Ceramic paint protection coating. And the celebrity we are talking about is actually a very special super sports car … the famous Mercedes SLS 63 Super-Sport GT with unique gull-wing doors! The two-seater luxury limited Gull-winged, Mercedes Benz SLS Supercar has been owned by many Hollywood celebrities, including Arnold Schwarzenegger, Tom Hanks, Eddie Murphy, Sylvester Stallone, Al Pachino and premier race drivers, Jay Leno and Jeremy Clarkson. The aerodynamic SLS 63 comes with hand-made grille and a rather unique shark mouth. The upgraded 6.3-liter, V8 engine is bumped up to 621 horsepower output and 516 lb/ft torque. With the seven-speed dual-clutch semi-automatic transmission, the Sport-Light-Super (SLS) Mercedes clocks the 0 to 100 km/h time in 3.8 seconds and an electronically limited top speed of 320 km/h. The Gull-wing version Mercedes SLS has won numerous design awards such as the "Best of the Best Award", the Auto BILD "Europe's Most Attractive Car" Design Award 2010 and Germany's gold Design Award. Hope you will enjoy viewing the following photos!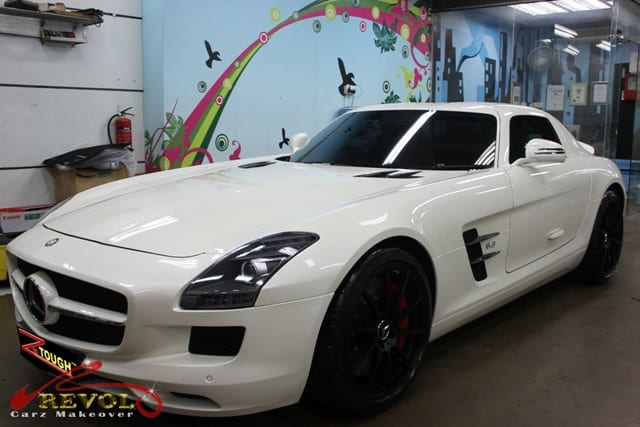 Mercedes SLS 63's exterior is dominated by the long large hood and the prominent three-point Mercedes Star amid the wide radiator inlet. Between the chrome fins are number "6.3" denoting the engine size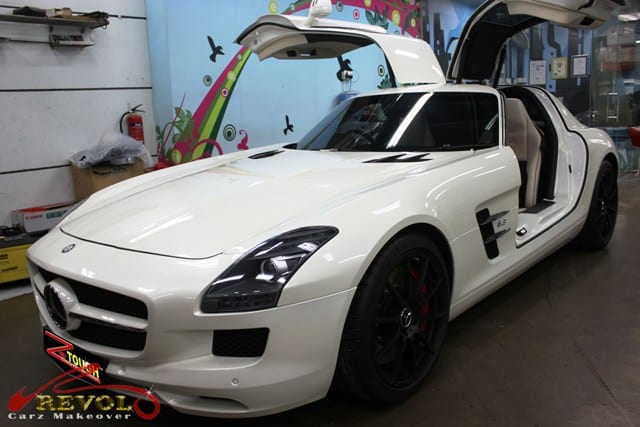 The impressive gull-wing doors swings open upwards by gas struts and must be closed manually
The Formula-One style headlights feature bi-xenon low-beam with LED indicators and LED daytime driving lights
The powerful 6.3-liter V8 engine is mated to the AMG Speed-shift DCT 7 Speed Sports transmission, capable of 0 to 100 km/h acceleration in 3.8 seconds and a top speed of 320 km/h
SLS 63 Headlamp
Sporty electrically controlled wing mirrors
Closing the Gull-wing doors and you will be immersed in a rich and purposeful cockpit
The design of center console and air vents are aviation world inspired. The SPEEDSHIFT DCT 7-speed, dual clutch semi-automatic is connected to the engine through a lightweight carbon fiber drive-shaft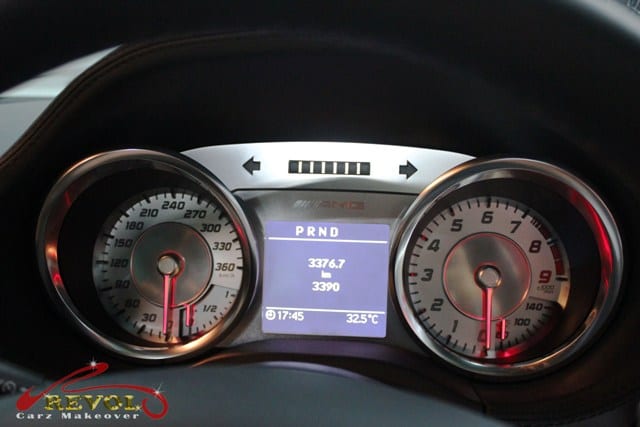 Clean Instrument cluster with LED shift indicator and two white backlit dial instruments
The gently sloping boot lid emphasizes a sense of width. The dual chrome tail-pipes complete the look along with wing-shaped LED brake lights
Wing-shaped LED brake lights
Two chromed tail pipes between the black diffuser
The fuel consumption of the SLS63 is about 13 Liter/100 km combined driving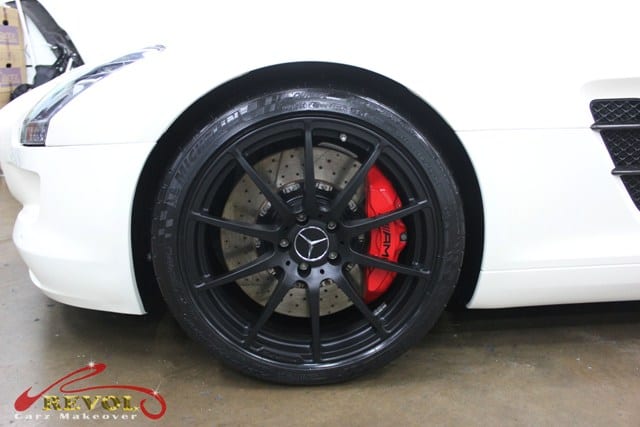 Forged aluminum AMG 10-spoke wheels in matt black and bright red brake calipers. Front 9.50 × 19 inch, rear 11 × 20 inch. The make-over was completed with our signature, ZeTough Ceramic Paint Protection coating that gives the SLS63 a truly long lasting shield and glimmering show-piece wherever she goes. No wonder the owner's jaw dropped on seeing the transformation of his white celebrity during his collection. Thank you for reading!
---