The Car of the Week at our Revol's Carz Makeover Workshop today is the new Volkswagen Golf 2016! The Golf received much pampering and attention from our team with passionate grooming and adding the finishing touch of ZeTough Paint Protection treatment. The 2016 VW Golf is impressive with its versatile design and superior interior quality finishes usually found in luxury cars. The hatchback sits low with a wide track, giving it a more muscular appearance. The surfaces are highly tailored with crisp lines starting at the base of the steep hood to the new narrower horizontal grille that is flanked by sharper oblong headlight clusters. Thanks to the newly design MQB platform, the car is light, strong, efficient and one of the quietest cars in its class…enough to satisfy the most demanding drivers. The Golf 1.4-liter gasoline TSI engine delivers 138bhp/250Nm of torque mated with seven-speed automatic transmission. The 0-100km/h dash clocks 8.4 seconds and the top speed at 210km/h. Hope you will enjoy viewing the following photos!
The 2016 Volkswagen Golf was built on its new modular global platform. The make–over tookon a larger footprint, amplifying an upright body that is lighter than before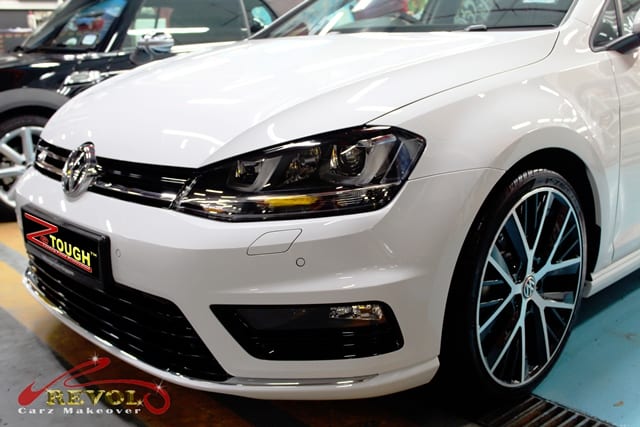 The new Golf gets more refined detailing in the front. The sleek oblong headlamps are pushed to the outermost corners. The sloping fender tops aid smoother air-flow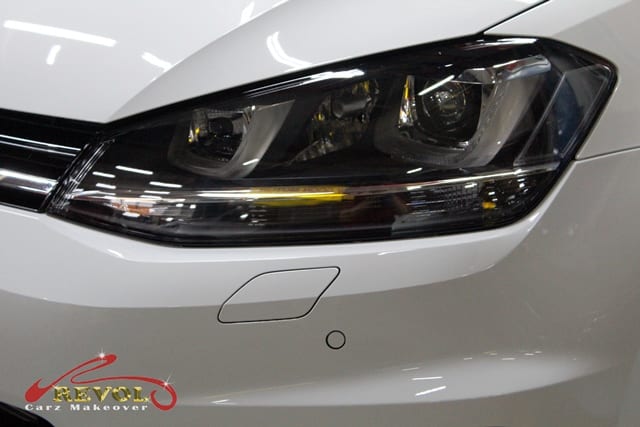 The sharper Xenon headlight clusters that are pushed to the outmost corners give the Golf a more masculine appearance
Pioneering technology is used in the Golf TSI 1.4-liter petrol engine that delivers 138bhp/250Nm torque. Mated to a seven-speed automation transmission, the Golf clocks 8.4 seconds in the 0-100km/h acceleration. Top speed: 210km/h
The VW Golf is big on interior space which is packed to the roof with high class fittings and finishing usually found in luxury car such as premium Vienna leather upholstery, trip computer, electronic parking brake, Bluetooth music streaming and piano– black accents
The Golf features a low loading lip to facilitate loading to the large and versatile boot. Bulky loads can be conveniently stored under the variable luggage compartment floor
Chromed polished twin exhaust pipes
Optional 18-inch alloy wheels with low profile tiresTotally groomed and highly protected with ceramic-like shield ZeTough Paint Protection, the 2016 Volkswagen Golf…The Car of the Weekcontinues her tradition of having an upscale look and flaunts her glory on the road for many years ahead. Thank you for reading!