The masculine Audi Q7 TFSI Quattro 7-seater hunk was here at Revol Carz Makeover for a special treat of the advanced ZeTough Titanium Paint Protection Coating.
The Audi Q7's engine boasts a 3.0-litre supercharged V6 petrol unit producing 333 hp and 440 Nm of torque from 2,900-5,300 rpm. An eight-speed Tiptronic automatic transmission delivers power to the wheels together with Quattro all-wheel drive system.
The Audi SUV takes a split 6.3 seconds to hit 100 km/h, and continues accelerating to an electronically limited top speed of 250 km/h. The claimed combined fuel consumption is 7.9-litres per 100 km.
Standard kit includes adaptive air suspension, LED headlamps and DRLs (with high beam assist and washers), heated and auto anti-glare wing mirrors, powered tailgate and park assist with surround view camera. The wheels are 19-inch Audi spoke alloy shod with 285/45 profile tires.
ZeTough Titanium Paint Protection Coating is our newly launched advanced paint protection product with more remarkable features such as super hydrophobic and self-cleaning properties that keep you car cleaner and glossier even longer.
Extensively laboratory tested and certified by the world's renowned International Testing and Certification Authority, SGS, the ZeTough Titanium Paint Protection Coating is proven to provide incredibly long-lasting surface protection and shine on your car's paintwork.
With our unmatched five-year warranty (and a conditional extension to seven-year warranty) you enjoy a complete peace of mind with easy maintenance.
Here are some of the key benefits why ZeTough Titanium Paint Protection Coating is great for your car.
Permanent coating protection.
Above 9H pencil hardness scratch resistance.
Extreme hydrophobic properties.
Superb self cleaning properties.
Weather and UV resistance.
Anti graffiti.
Excellent chemical resistance.
Oxidation and corrosion resistance.
Extreme high gloss finishing.
Hop in, buckle the seat belt and let us take you on virtual tour to our Revol Carz Makeover studio and experience the transition of the Audi Q7 to an incredible showroom glory.
We hope you will enjoy viewing the following photos!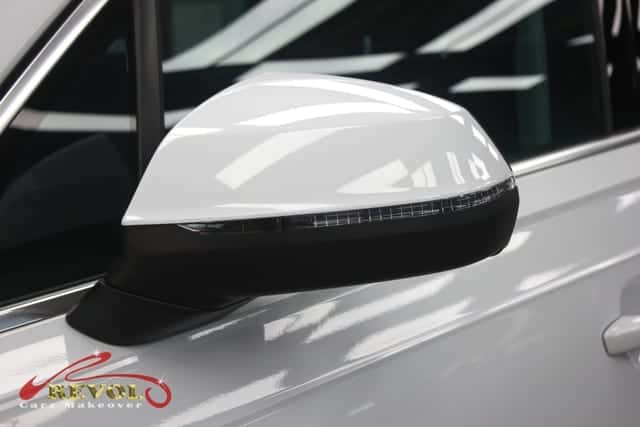 Revol has taken a quantum leap forward in taking the advanced long lasting ZeTough Titanium Paint Protection Coating to a whole new level.
Your car deserves the treatment of ZeTough Titanium Paint Protection Coating. It is a prudent long term investment in paintwork protection that adds value to your car.
The makeover has certainly left the Audi's owner speechless with satisfaction and exhilarations indeed. The transition of the Audi Q7 TFSI to a spectacular showroom shine is truly awe-inspiring. The amazing results speak for itself.
Express your distinction in the finest perfection in car surface protection with the proven, ZeTough Titanium Paint Protection Coating that offers you the best value for money. The incredibly long lasting protective coating promises a lifetime of paint protection with warranty.
You can count on our multiple award-winning and proven, ZeTough Titanium Paint Protection Coating. Yes, imagine what we can do for your car too.
Revol Carz Makeover is your right choice. Visit us to know more about our affordable and transparent services.

Maintenance after the coating is minimal.

Thank you for reading!