Hi Everyone, The all-new BMW M4 Coupe hits 100 km/h in just 4.1 seconds! That's mind-blowing! No wonder many diehard BMW fans are thrilled by the newest addition of the BMW M4 performance coupes. We too had the adrenaline-rush when grooming the White metallic BMW M4 at our Revol Carz Makeover workshop today. And as always, we recommended the M4 with ZeTough ceramic coating treatment that warrants a long period of paint protection and effortless maintenance. The new BMW M4 Coupe is the replacement for the M3 Coupe. With record breaking light weight, more aggressive and aerodynamic body and a bump on the hood hints the M4 is a more powerful M-twin turbo, six-cylinder, 431 horse-power, 3-liter petrol engine mated with 7 speed transmission Hope you will enjoy viewing the following photos!
The all-new BMW M4 in unique Austin-yellow-metallic paintwork. The striking front apron and two vertical Air curtain inlets and side gills create aerodynamic touch
The BMW M kidney grille with double slats projects an aggressive look The air inlets in the front and air curtain visually underline the dynamic appearance of the BMW M4
BMW dynamically elongated Adaptive LED headlights with Selective Beam for safer night driving.
The M Twin-Power Turbo inline 6-cylinder petrol engine with high rev of up to 7,600 rpm and superior torque of 550Nm ready to take on any challenges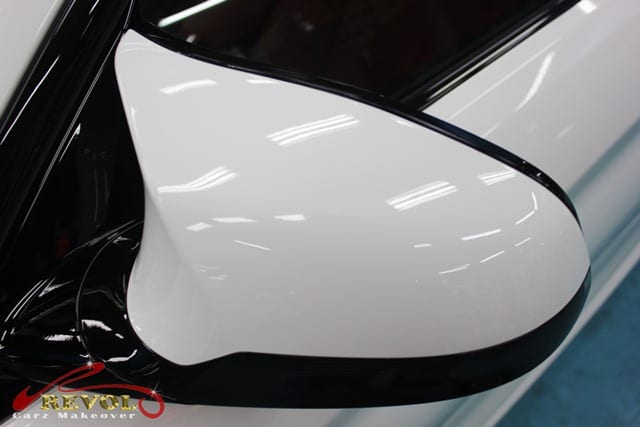 Dynamic, sporty and aerodynamic designed M exterior mirrors
The BMW M4 interior is ergonomically designed with all the control elements orientated around the driver
At the rear…the newest developed OLED tail lights, Gurney flap spoiler and the unmistakably quad beveled exhaust pipes finishers
BMW M4 Quad beveled tail pipe exhausts.
The redesigned light weight-optimized alloy wheels with V-spoke in Ferric Grey The task of Revol Carz Makeover with the special treatment of ZeTough Ceramic Paint Protection coating has transformed the Austin-Yellow metallic BMW M4 to even more glamorous sports coupe… and turning heads on the road. Thank you for reading!
---