Hi Everyone, It is our pleasure to have an Audi A6 at Revol Carz Makeover for a full car respray together with ZeTough Ceramic Paint protection to revive back the showroom condition with long lasting protection too. We hope you will enjoy viewing the total transformation from the before and after pictures of on this beautiful black Audi A6.
Before When the beautiful Audi A6 arrives Revol Carz Makeover workshop, we first took some before photos of her
Some scratches on the front fender
Some scratches on the front fender
A small dented on the bumper After spray painting, to enhance the shine to a complete showroom condition feeling, additional detailing, fine-polishing (to ensure no swirl marks) and interior detailing and restoration are carried out.
With a newly sprayed paintwork, it is important to have a strong paint protection for a long lasting protection. Now here comes the highlight and one of the most important part of the make-over. The coating of ZeTough Ceracmic Paint Protection coating! The newly sprayed paintwork is more enriched, glossier and protected.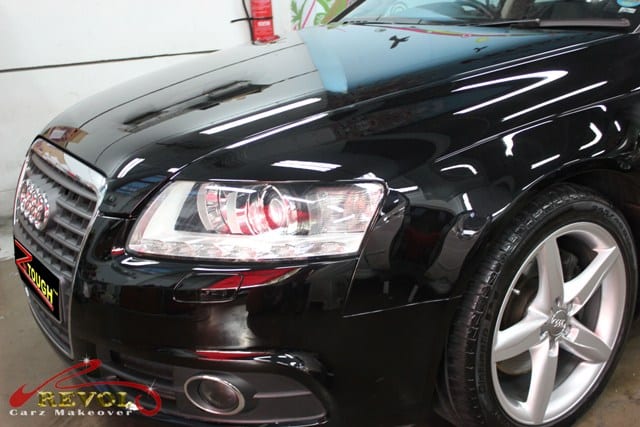 Close up view on the newly spray bonnet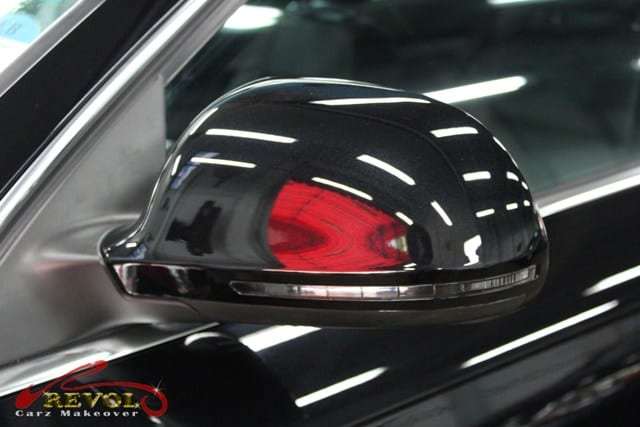 With good worksmanship finishing, even the side mirror will reflect the ultimate gloss and shine
A nicely clean up interior will enhance and complete a new car feel back!
The beautiful rear view of Audi A6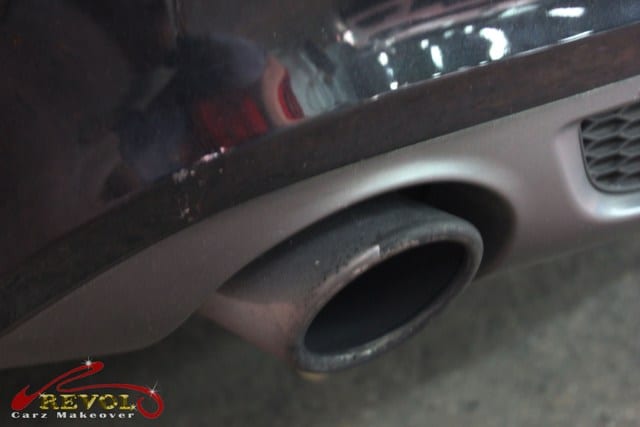 Lets take a look at the before exhaust pipe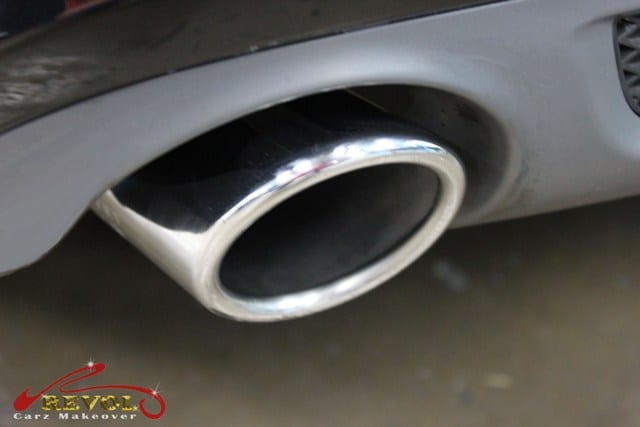 A magic touch by our professional grooming team to return its lost glory new look
A before rims with common kerb rash
To Complete the New showroom feel and condition… Rims must be new and shiny!   With  a newly spray paintwork, it is important to coat with a paint protection so to achieve a longer lasting shine and protection. With ZeTough ceramic paint protection coating; full exterior detailing; interior cleaning and conditioning, rims restored back to like new condition; this  make-over Audi A4 beauty was happily ever after with her happy owner. Pondering giving your car a new lease of life? Change of new color or require partially repair and spray or have the thoughts of whole car re-sprayed? Visit us at Revol Carz Makeover for a friendly chat and free assessment with absolutely no obligation. Thank you for reading!